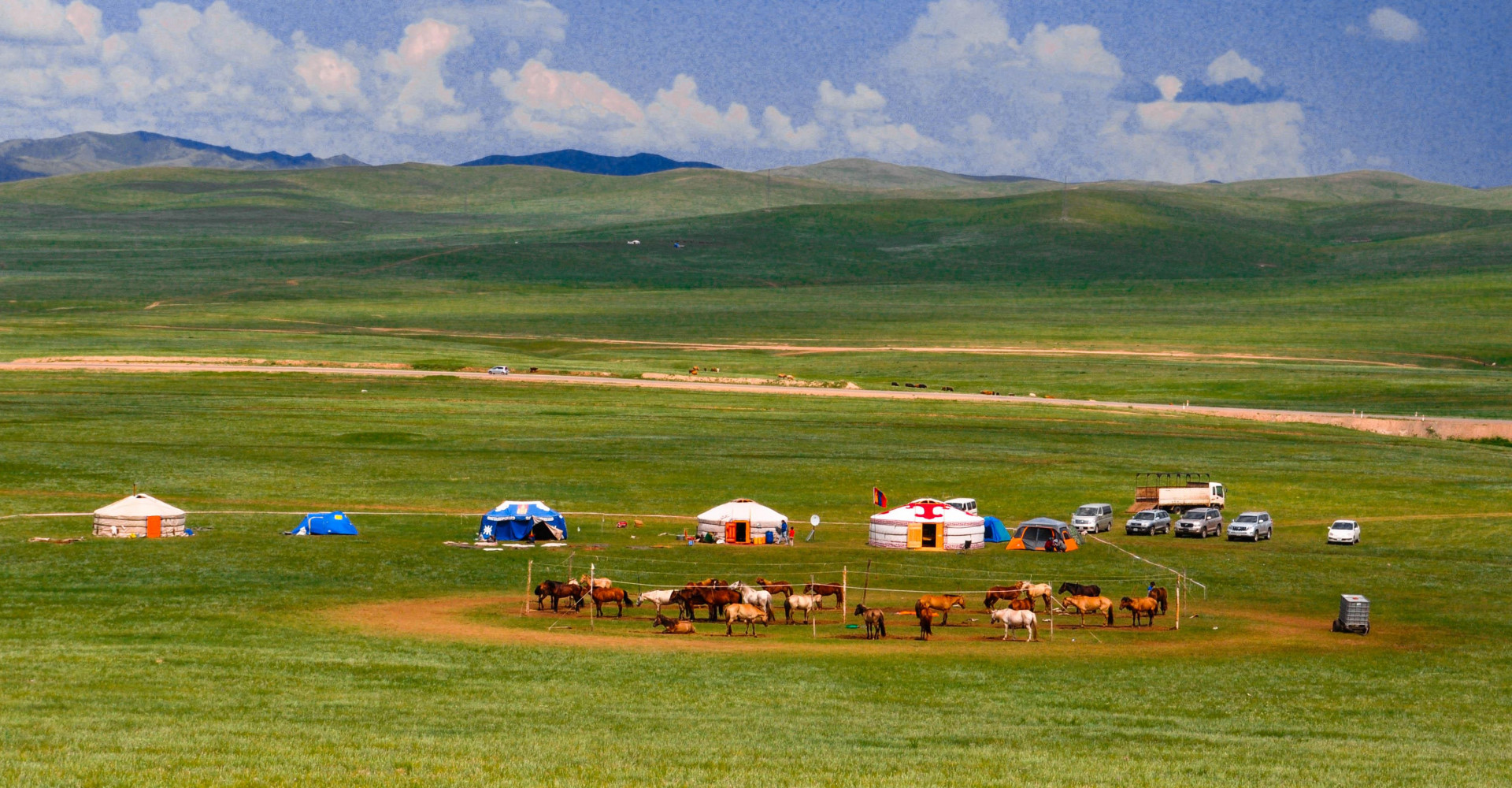 | | |
| --- | --- |
| Center: | Tsetserleg. located 291 miles (468 km) from Ulaanbaatar. |
| Established: | 1931 year |
| Population: | 92'059 |
| Area: | 55'313.82 km2 |
| Ethnic group: | Uuld and Khalkh |
Arkhangai aimag is situated in the central part of the Khangai mountain range and its territory comprises mountains, steppe and plains. Over 70 percent of the territory of the aimag is pasture land, almost 2 percent with hay fields, about 1 percent with sown area, and 15 percent of the territory is covered with deciduous and coniferous forest.
Economy
The agriculture sector dominates the economic activities of the aimag. There are about 45 square miles of arable land, used for growing cereal, potatoes, and other kinds of vegetables. Local farmers harvest over 20,000 tons of grain annually.
Flora and Fauna
There are ibex, wild sheep, snow leopards, lynx, musk stags, bears in the mountains, and marmots, susliks, foxes in the steppe. Around 1,700 species of flora can be found in the territory of the province of which 20 percent are medical herbs. Rare species include roseroot, pheasant eye, and sausserea involucrata.
Tourism
Arkhangai has astounding scenery: wide rivers full of fish, several volcanoes and volcanic lakes, extensive forests, and pastures where yak thrive. It also boasts the stunning lake Terkhiin Tsagaan Nuur, the ruins of several ancient kingdoms and probably the nicest aimag capital in the country.
Orkhon, Chuluut, South and North Tamir rivers gush from high Khangai mountain range and the Uigii, and Terkh fresh water lakes. These rivers and lakes teem with taimen, grayling, scale, and perch. There are many springs such as the Khadat, Mukhar Khujirt, Bora tal, Tsagaan somon, Beikh, and many beautiful places like Khorgo and Taikhar Rock. Arkhangai aimag is rich in historic places. There have been many finds from the Old Stone Age in the basin of Orkhon, Tamir, Chuluut rivers, inscriptions of the Bilge Khan and Kul-Tegena at Tsaidam monuments in the Taikhar Chuluu and the Khashaat somon. Impressive are the ruins of the ancient capital city of the Uighur Khanate in Khotont somon.
Another drawback is that the aimag, particularly along the road between Tsetserleg and Ulaanbaator, is notoriously bad for flies in summer - take repellent or you will live to regret it. If the flies make your life a misery, you can always indulge in fermented mare's milk, airag (Arkhangai is renowned for the quality of it's airag).
Transportation:
Due to improved roads to the capital, Ulaanbaatar, there is no longer scheduled air transportation. On the bright side, there is daily buses to and from UB on paved road the entire way.
By bus
Buses for Tsetserleg leave from the Dragon bus station in Ulaanbaatar at 8AM . The ride typically lasts at least 10 hours, and tickets must be purchased a day in advance. Bus tickets from Ulaanbaatar to Tsetserleg cost approximately 27,000 ₮, around US$12.
There are also microbuses that run between Ulaanbaatar and Tsetserleg. These are often very cramped (four across a bench seat), as drivers want to fit as many people in as possible to maximize profit. If possible, it is not a bad idea to pay for an extra seat to be left empty.
Get around
Tseterleg isn't very big. The city center and most hotels are in walking distance of the main attractions. If you don't want to walk, stand on the side of the road and stick your hand out. It won't be long before a car stops. Expect to pay between 500 and 2,000 ₮ for rides around town.