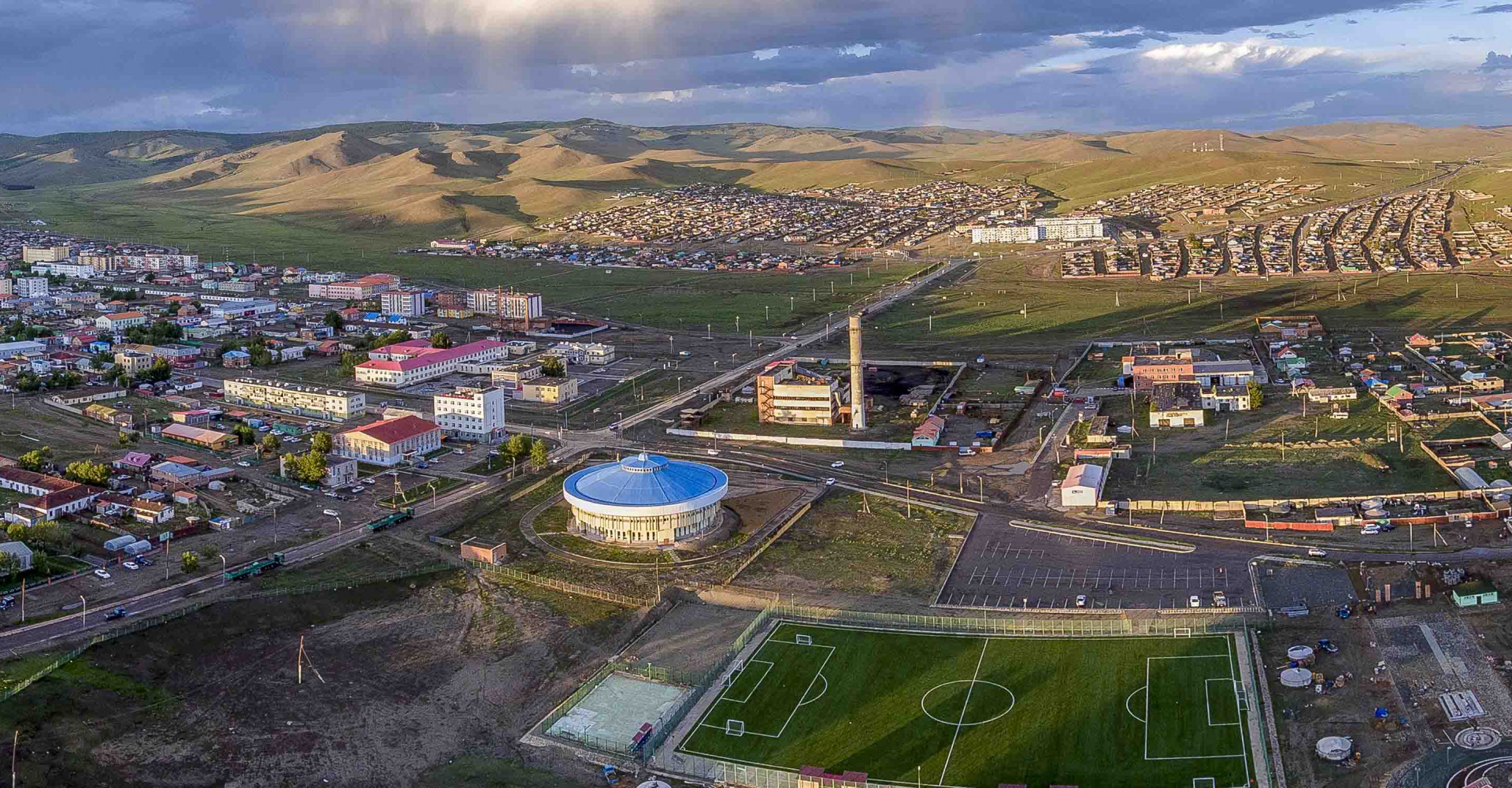 | | |
| --- | --- |
| Center: | Zuunmod town, located 28 miles (45 km.) from Ulaanbaator. |
| Established: | 1931 year |
| Population: | 90'621 |
| Area: | 74'042.37 km2 |
| Ethnic group: | Khalkh, Kazakh, and Barga. |
The Tuv aimag is located in the center of Mongolia and includes the Capital city of Mongolia in its territory. It has the area of 74,0 thousand km and population of 90,6 thousand people.
For its administration unit, it has 27 soums, 97 baghs, 24,672 families and 4,5 million head of cattle.
Economy
The aimag is the marked manufacturer. Which intensively developed its agriculture in its central and north areas, won the first places by its productions of corn, potatoes and vegetables and other agriculture products to citizens of Ulaanbaatar city.
Flora and Fauna
The soil in the South and West of the territory is pale, brown. Various trees such as Siberian cedar, larch, poplar, sallick, pine grow in the basin of Khentii mountains. Common are apple manus, wild cherry, black currant, wild rose fruits, rare liquorice, hippobopae, and medical herbs such as plaintain, bergenia, rooseroot, thorniopsis. In the province there are 16 species of endangered animals and birds, such as deer, does, elks, ibex, wild sheep, swans and snowcocks. The aimag is rich in species such as squirrels, marmots, foxes, bears and lynxes.
Tourism
Ulaanbaatar is an autonomous municipality; the aimag which surrounds it is called Tov, which means "central'. Just an hour's drive from Ulaanbaatar are restored monasteries in beautiful valleys, and mountains with some wonderful hiking. A large section of the aimag is part of the Gorkhi-Terelj, Khan Khentii and Bogdkhan Uul national parks.
Tov may not be the wildest or most spectacular aimag in Mongolia, but it's an excellent place to start your exploration, or to see some of the countryside if your time is limited. It has a network of good unpaved and paved roads, so you can easily use public transport to make day or overnight trips from the capital.
The province is well-known of its springs, Janchivlan, Buuruljuut, Khundgan, Estii, Yestii, Suuj. Lakes include Dukhum, Davst, Gungaluutai, Tsaidam, Tsakhir. Tourist attractions include historic places, such as Noyon Uul, Gua dov, Terelj durvulj, Tonyukuk's grave, poems of prince Tsogt carved in rock in Duut, as old as 450 years, impressive are the ruins of ancient cities of Hunnu, Uighur, Turkish Khanates in the province.
Transportation:
By Bus
The road to Zuunmod is well paved. It even makes a nice cycle ride! There are medium-sized buses and micro-buses leaving throughout the day from the Dragon Center in Ulaanbaatar from 08:00 to 20:00. Buses are cheap and crowded. You can also hire a taxi to take you there since it is so close to the city. Bus costs 2000 ₮ . Bus number 27 or 27-5 takes you from Sukhbaatar square to the Dragon Centre, or take bus 44 from the University. Buses with a small -5 added to the line number usually ply the full length of the Peace Avenue. Dragon is at the western end of the peace avenue. At the bus stop at Zuunmod there are usually Taxis waiting if you want to get to Manjushri Khiid quickly.