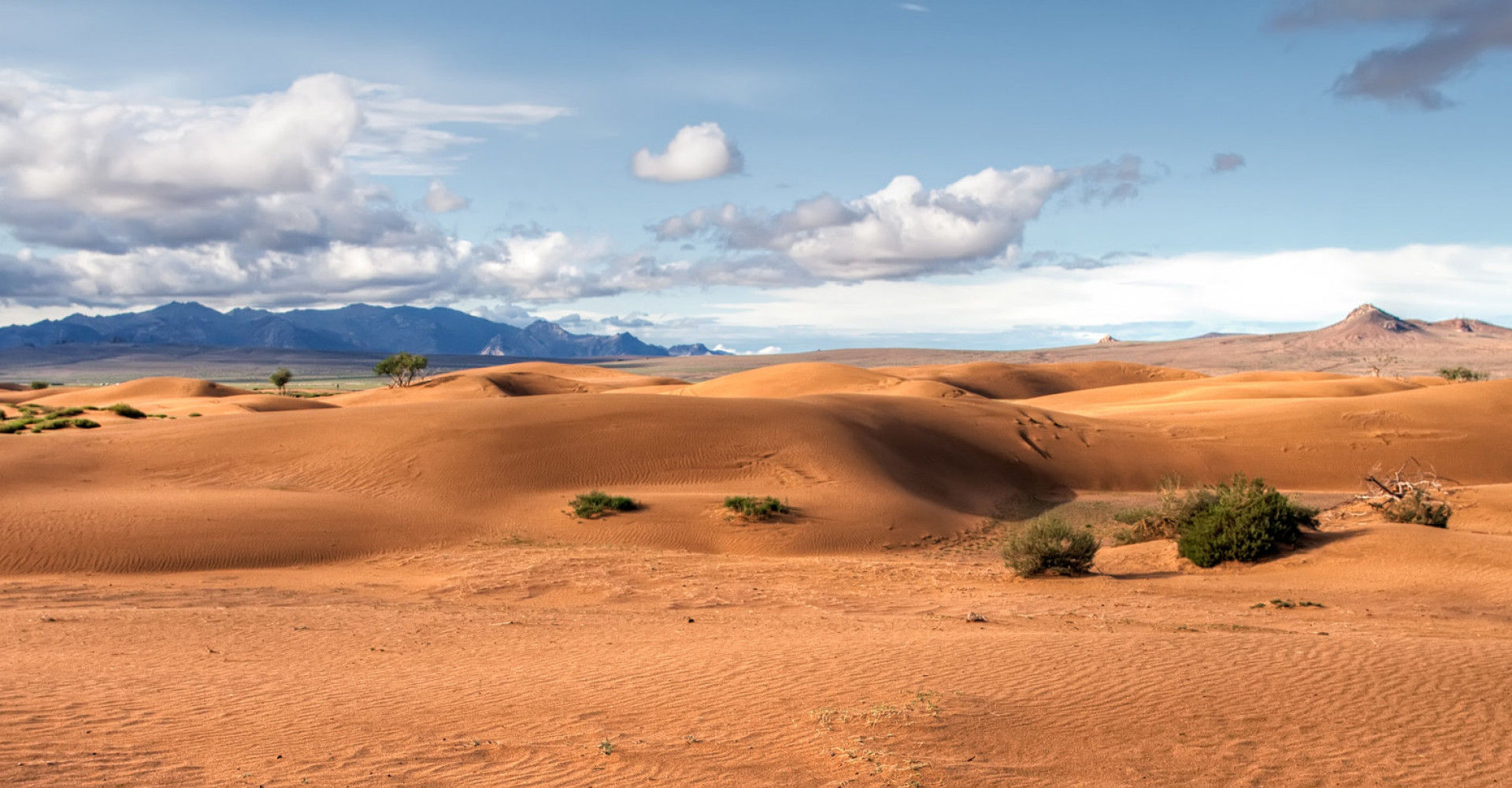 | | |
| --- | --- |
| Center: | Mandalgobi town, located 165 miles (265 km) from Ulaanbaatar |
| Established: | 1942 year |
| Population: | 44'429 |
| Area: | 74'690.32 km2 |
| Ethnic group: | Khalkh |

Dundgobi Aimag is the middle segment of the Gobi-desert. Dundgobi Aimag has an area of 74,700 square kilometers and population of 51.300 inhabitants. The administrative center is the town of Mandalgobi at an altitude of 1,393 meters sea level in the vast open steppe, 260 kilometers from Ulaanbaatar. The territory of the aimag is the central part of the Middle Khalhasain Plain. Total local livestock herd is 1.5 million heads.
Economy
Dundgovi aimag is rich in coal, copper ore, iron ore, fluorspar, nephrite, jade, graphite, marble and chalcedony. The main branch of economy is animal husbandry.
Flora and Fauna
Elm, saksaul, tamarisk, almond are woody plants, to be found anywhere in the territory of the province. Medical herbs, such as artemesia, allium mongolicum, psammochloa, splenden, feather-grass, wornwood, couch, wild-rose, liquirice, cynomorium, agriophyllium, annua, cotoneaster grow nearly everywhere. Rare animals such as wild sheep, ibex, antelope, black tailed antelope, marmot, fox, lynx, wild cat, badger and hare may be occasionally encountered. Birds include eagle, kite, swan, pallous and sandgrouse.
Tourism
There are many small lakes and springs. The Ongi River flows in the western part of the aimag. This territory is covered with steppe plants and has species of birds and animal of rare varied. In the southern part it gradually turns into the desert zone of the arid Gobi.
The territory of Dundgovi aimag is semi-desert and steppe. There is semi-desert, such as Oldokh, Tugrug, Nomgon, Ergenegene, and many springs, including Togoo, Ungut, Khadan Us. Aimag is pride of it's beautiful sceneries such as Ikh Gazriin Chuluu, Baga Gazriin Chuluu, somon khukh oasis, Tsagaan stupa-pyramid, and the Uush dunes.
Transportation:
There are 2 buses a day that leave from the Dragon Center in Ulaanbaatar to Mandalgovĭ, at 8am and 2pm. The ride took about 6 hours before a paved road was completed in 2013. Probably much faster now. Tickets should be purchased a day in advance. Or you could get there much faster by hiring a driver to take you.