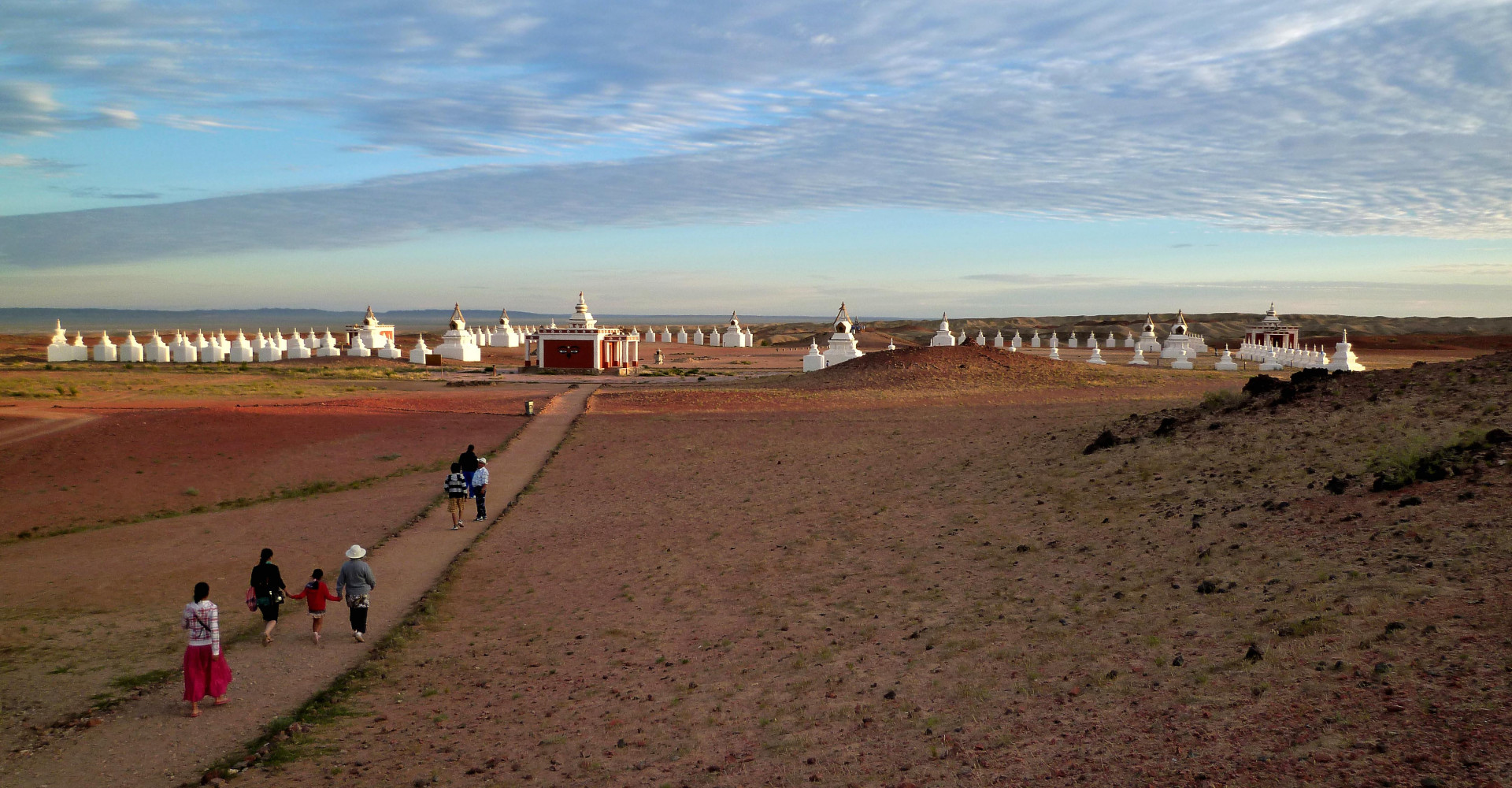 | | |
| --- | --- |
| Center: | Sainshand , located 283 miles (456 km) from Ulaanbaatar. |
| Established: | 1931 year |
| Population: | 65'267 |
| Area: | 109'472 km2 |
| Ethnic group: | Khalkh, Buryat and Dariganga |

Dornogobi aimag is situated in the South-East of the country and borders on the South with the People's Republic of China. This wide area is a semi-desert zone, with a hard and sandy soil.
Territory is famous for medical herbs such as liquorice, cuscuta australis, and annual, perennial species, including wild leek, saksaul, elm, allium mongolicum and saltwort. Of wild animals there are wild horse, wild sheep, ibex, black tailed antelope, white antelope and lynx. Birds include condor and eagle. These species can be found on the hills of Otsol, Sansara, Ikhe and Baga Dulaan, Argalant, Khorgo, Budryn Uul, in the steppe of the Tuulait and Tariachfh, in the hollows of Gurban Bayan, Unegt, Tughum, and on the wide semi-desert of Bulan saaral, Gurvan Khashaat, Khonich, Burdene Uul, Dalai Bumbat. Railway over 311 miles (500 km) long crosses 6 somons. Infrastructure consists of railway, telecommunications and roads.
The territory of the Dornogobi aimag Is dotted with rocks that appeared during various ages is Mongolia's Gobi Desert region. Under pristine conditions and with its wealth of stone tools, petroglyphs, bronze and iron tools, tombs, ruins of cities and towns, and other valuable historical and cultural monuments the Gobi Desert attests to being the birthplace of mankind, as does its significant paleontological discoveries, such as the petrified fossils of dinosaurs that existed over 80 million years ago, sea creatures and plants, petrified wood, footprints of marsh heron, zebu, and ostriches inhabiting the area 30 million years ago.
The region has been explored over a lengthy period by the Italian trader Marco Polo, the Russian geographer N. M. Prjevalsky, the Russian scientist and geographer V. I. Obruchev, Russian tourist P. M. Kozlov, and other scientists and researchers, all of whom havedevoted a sizeable number of their research works to the flora and fauna and geographical landscape of the aimag, and to the traditions and lifestyles of its human inhabitants.
Dornogobi aimag is located in the desert steppe zone of southeastern Mongolia. It is one of the hottest and most windswept areas of the country.
The flora and fauna typical of desert steppe zones is widespread throughout Dornogobi.
Whilst there are no large rivers in the territory of the aimag, it does have sizeable resources of subterranean water and many small lakes, rivers and springs.
Dornogobi numbers over 1 million head of livestock, mostly sheep and goats.
Founded in 1931, the Province borders on the Sukhbaatar aimag to the east, on the Khentii and Gobisumber aimags to the north and borders China to the south. Covering an area of 115 thousand sq. km, Dornogobi has a population of 50 thousand, 70 percent of which live in towns and settlement areas.
The center of the aimag, Sainshand, is 463 km from Ulaanbaatar City and is a main international railway hub.
Dornogobi has a railway station linking Moscow-Ulaanbaatar-Beijing, a medical museum, the music and drama theater named after Noble Saint Danzanravjaa, an ethnographic museum, an electrical power plant, food mills, and trade and cultural centers.
Sainshand. Population 20,000. Elevation 938m. One of Mongolia's most dusty and dry aimag capitals, Sainshand (Good Pond) is important primarily because of it's location. The city was founded in 1931 and was called Tushet Khan aimag during Manchu rule. It is on the main rail line to China, and not far from the Chinese border.
Transportation
As it is a station on the main train-line of the Trans-Mongolian line of the Trans-Siberian Railway from Beijing via the Zamiin-Uud/Erlian border crossing to Ulaanbaatar, there is little public transport otherwise. A paved road was completed in 2013 connecting Sainshand and Zamiin-Uud to Ulaanbaatar via Choir. No word yet if there will be any buses between the cities.
By train
Sainshand Railway Station
There are several trains that stop in Sainshand going either south to Zamiin-Uud and on to China or north from China to Ulaanbaatar. There are 2 daily trains from UB, plus express trains on Tuesday, Wednesday, Friday, and Saturday with fewer stops. There are also 1 daily train and an express train on Wednesday, Thursday, and Sunday from Zamiin-Uud. Local trains stop at every town and city along the way and can have over 20 stops between Zamiin-Uud and Ulaanbaatar.