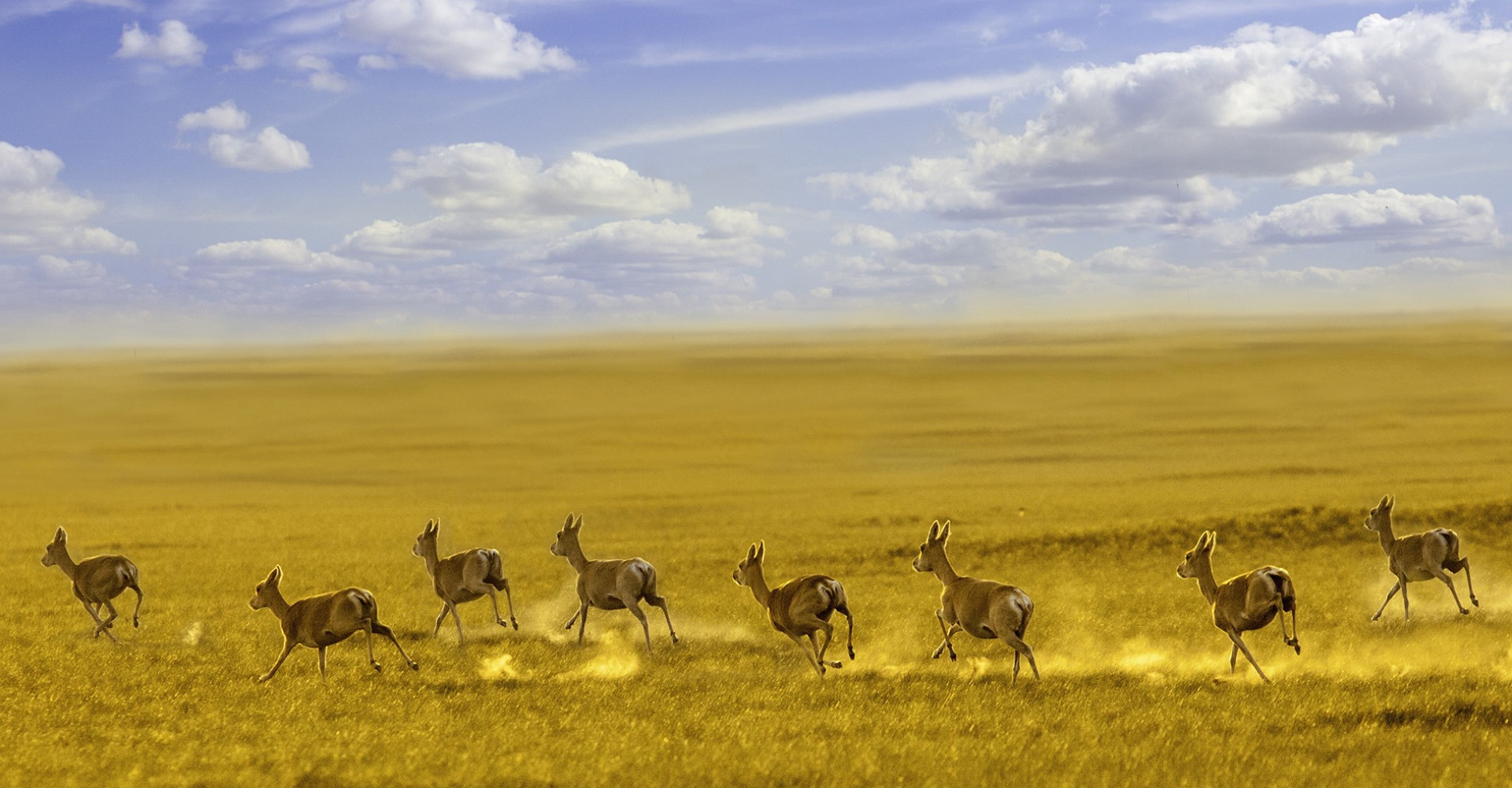 | | |
| --- | --- |
| Center: | Choibalsan town, located 408 miles (656 km)from Ulaanbaatar. |
| Established: | 1931 year |
| Population: | 76'476 |
| Area: | 123'597.43 km2 |
| Ethnic group: | Barga, Uzemchin, Khalkh and Buryat |

Dornod aimag borders on the North with the Russian Federation and on the East and South-East with the People's Republic of China.
The population is predominantly Khalkha, but Buryat and Barga nationalities live in Ereentsav of Bayan-Uul, Bayandun, Dashbalbar, and Tsagaan-Ovoo somons. Gurvan-zagal, and Khuluunbuir somons are populated by the Uzemchin. 4/5 of the territory is hilly. The vast steppes of Menen, Matad, and Tamsag cover the territory of 186 miles (300 km) in the East with some parts reaching 93 miles (150 km.) in width. 93-124 miles (150-200 km) along both sides of the Kherulen river lie steppes. Also there are high mountains along the sides of the Uuiz river, and low hills along the sides of the Onon river. The annual precipitation is 10-12 inches (250-300 mm). Onon, Kherulen, Khaikh, Uuiz are the biggest rivers. Numerous lakes could be found in Dornod, such as Khukh, Galuut, Bayan, Bulan and Buir. The Buir lake is the biggest, fresh water lake, others are salt lakes. In the territory of the aimag, there are many springs, the most famous ones being Tsagaan Khundii, Utaat Minjuur, Ereen, Tsagaan chuluut. Deer, elks, raccoon, boars, otter and white antelope's habitat is in the basins of the Onon and Ulz rivers, and Khyangan mountain range. Marmots prefer the steppe. Bears, boars, and muskrats habitat is the basin of the Onon river. Wolf and fox can be seen everywhere, and squirrel and lynx in some places. Soil is black and brown and rich in pasture grass. Basins of the rivers are quite fertile. Dornod aimag has a relatively well developed infrastructure. 81.3 percent of the total arable land, or around 10.0 million hectares are either cultivated or used as pasture. 118 square miles are under cultivation for wheat growing and around 1.5 square miles for growing vegetables.
POPULATION
Dornod's population is comprised of a range of ethnic groups, including Khalkh, Buriad, Barga, Uzemchin, Uriankhay, Ould and Kazakh. The province center, Choibalsan, has a population of 47,000.
FLORA AND FAUNA
Ten percent of the flora registered in Mongolia grow in Dornod, along with more than 40 kinds of herbs and 10 kinds of useful plants. There are also plants with various ether oils that are indigenous to Mongolia. These herbs and plants could be used by the pharmaceutical industry to make drugs to cure respiratory and inflammatory diseases, to revitalize skin and to protect against the sun's rays.
NATIONAL PARKS
Thankfully, authorities have been convinced that the area's fragile environment and endangered fauna and flora need to be conserved. Dornod is currently the base of a multi-million dollar environmental protection project, which is researching everything from fires to field mice in an attempt to protect one of the world's last undisturbed grasslands. Three large Strictly Protected Areas (SPA) were established in the aimag in 1992:
Transportation:
By plane
The city is served by Choibalsan Airport, which has a concrete runway and a new passenger terminal built in 2001. There is international service to Hailar and Manzhouli in Inner Mongolia, China and domestic flights to Ulaanbaatar.
Hunnu Air (Building of Golomt bank /service center/), +976 7000 1111 (Ulaanbaatar), +976 7058 3344 (Choibalsan). Recently changed its name from Mongolian Airlines. Flights to Ulaanbaatar on Mon, Wed, and Sat, and to Manzhouli, Inner Mongolia, China twice a week.
AeroMongolia Call Center 7010-3030
By bus
By Intercity Bus. Buses leave daily from the Eastern Bus Terminal in UB at 08:00 and arrive in Choilbalsan at 23:00. These are old Russian buses since part of the road is unmaintained dirt. Stops to eat twice on the way. Stops a few more times at small stores where you can buy drinks, candy etc. The Bus Terminal is about 10km east of the center of Ulaanbaatar. Return buses leave at 8pm from Choibalsan. You need to buy a ticket a day or two in advance. The ticket is for an exact seat by number.