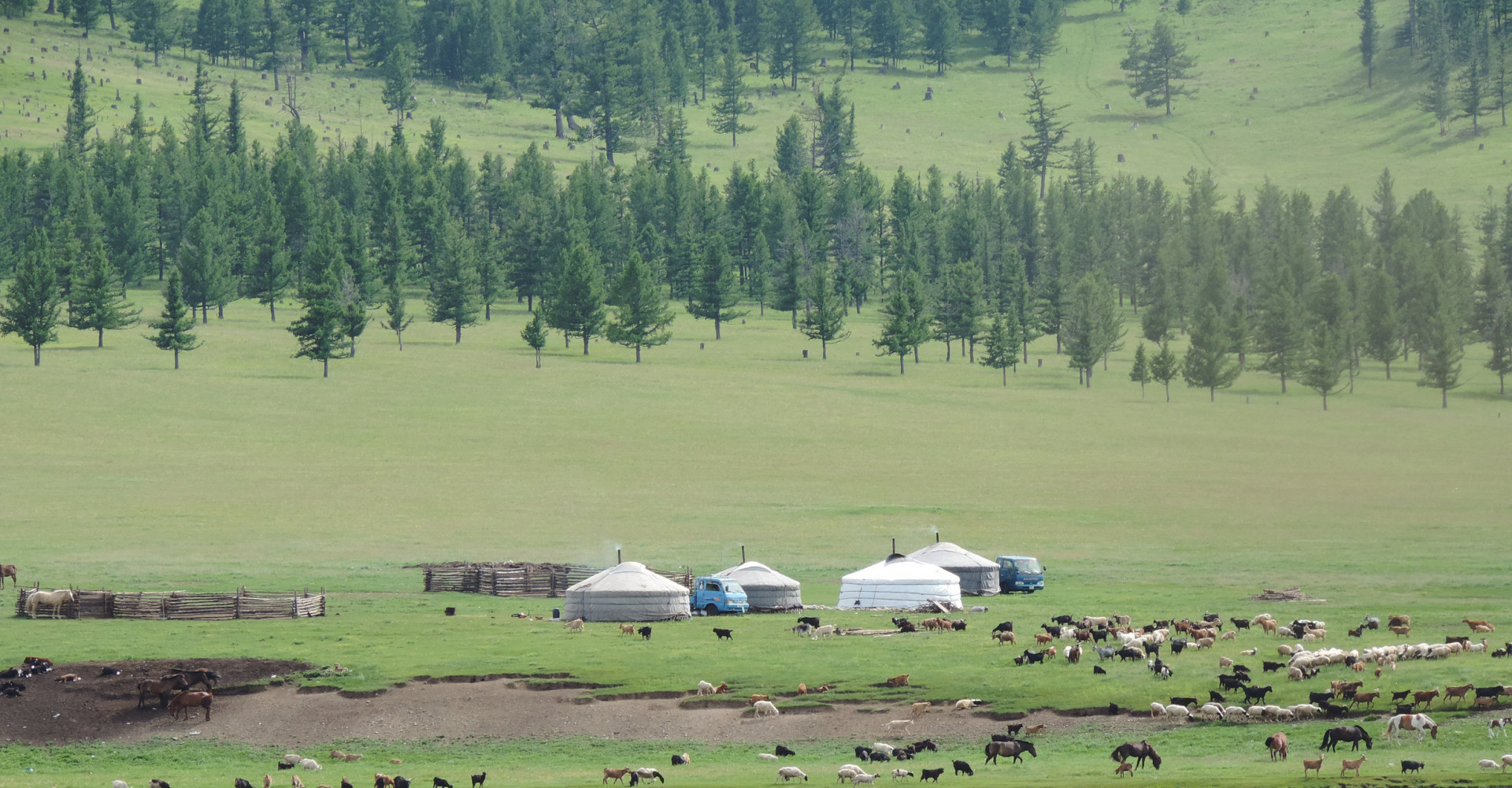 Bulgan aimag is situated in the North, in the territory of the Khangai mountain forest steppe zone. Bulgan aimag borders on the North with the Russian Federation.
Economy
Bulgan aimag is a curious mixture: the south is dry grassland and the north is green and has enough forest to support a small timber industry; scattered in between are about 50,000 hectares of wheat and vegetable crops - Mongolia's agricultural heartland
Flora and Fauna
Soil is sandy with semi-desert features in the South of the aimag. A small mountain range, the Biirengiin Nuruu, bisects the aimag, and though it only reaches a maximum altitude of 2058m, it provides plenty of lush habitat for wild animals and livestock. High mountains include: Bulgan Khan Uul, Buregkhangai, Dulaankhan.
Coniferous trees, fruits and medical herbs such as berry, goosberry, hippobophae, plantago, great burhet, peony species of artemesia and thyme grow in the fertile soil. Mixed forest occupies about 30 percent of the aimag's territory. Elks, bears, deer, white antelopes, boars, musk deer, lynxes, squirrels, marmots inhabit the area.
Tourism
Mongolia's largest river, the Selenge Gol, crosses the aimag's north, and the Orkhon and Tuul rivers meander around the southern parts. Bulgan aimag is rich in beautiful places, such as Eg-Selenge, Eg-Tarvagatai meadow, Uran-Togoo, Khugnukhan. Khuiji, Uurt and other springs of the province are popular destinations. Of historic memorials there are remnants of old Stone Age, ruins, and the site of Baibalyk, the ancient city of Uighur State, and the ruins of the residence of prince Tsogt. Bulgan is a famous area of pilgrimage of Mongolians due to its historic places.
Transportation:
There's a paved road between Bulgan and Ulaanbataar. This road passes through Erdenet, the 2nd largest city. There is 1 bus that leaves everyday from the Dragon Center in Ulaanbaatar to Bulgan at noon, plus several buses between Bulgan and Erdenet daily. It is also possible to travel via public transit between Bulgan and Mörön.