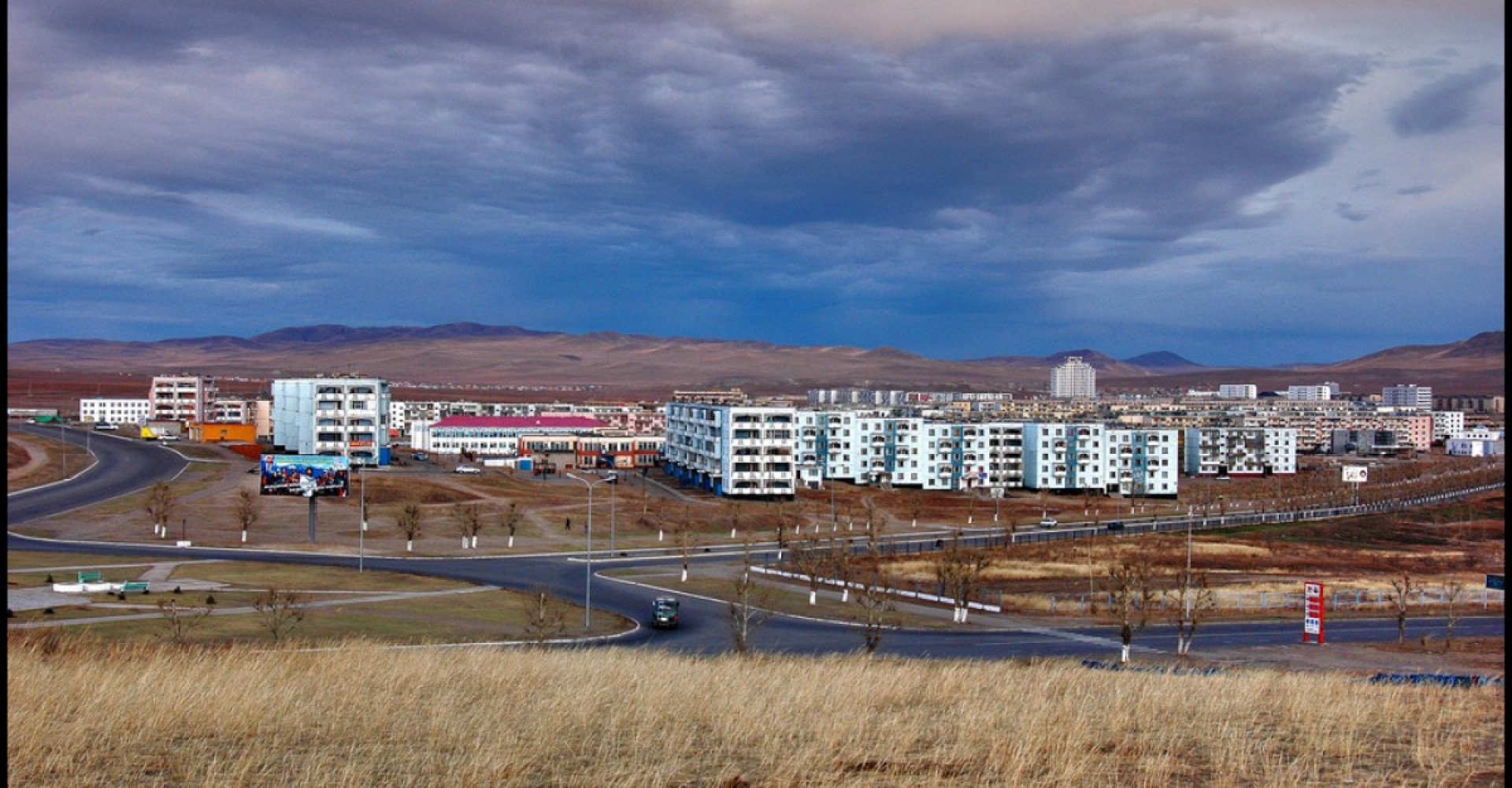 | | |
| --- | --- |
| Center: | City of Darkhan, located 143 miles (230km) from Ulaanbaatar. |
| Established: | 1994 year |
| Population: | 100'939 |
| Area: | 3'275 km2 |
| Ethnic group: | Khalkh, Durvud, Bayad, Torguud and Tuva |

On 17 October, 1961, the foundation of Darkhan city was laid in the economically favorable land of Darkhan somon, in Selenge aimag.
The somon was abolished and the settlement came under the new Darkhan Administration, in 1963. Joint-ventures with the assistance of former socialist countries were set up in Darkhan in 1970 - 1990, that have significantly contributed to the city's development and today it is a highly industrialized region of Mongolia. As Darkhan aimag used to be a part of Selenge aimag, biodiversity and climate are quite similar to those in Selenge. 76 percent of the population of Darkhan - Uul aimag live in Darkhan, of which 86 percent lives in residential apartments.
Darkhan-Uul province lies between the Khangai and Khentii mountain ranges in the Orkhon and Selenge's vast river valleys. In the 32,750 square kilometers of this province there are many places of great natural beauty.
By the end of the year 2004, the province population was 90,400 with people originating from every corner of Mongolia. Like the Mongolian population as a whole, most of the residents of Darkhan are young people.
Darkhan-Uul Aimag's infrastructure includes paved roads, an international railway, modern telecommunication systems and reliable energy sources. It is well connected by the main railway system to Russia and China with a north-south railroad through Ulaanbaatar and Darkhan City.
Economy
Darkhan has rich natural resources and mineral deposits as well as an abundance of vegetation and wildlife.
Darkhan was built as the foundation for Mongolia's major industries, particularly construction materials. Beginning in 1962, Mongolian and Soviet workers started the construction of Darkhan's first industrial facilities. The development of these industrial facilities was made possible through technical and financial assistance from various former socialist countries such as the Soviet Union, Hungary, Poland, and Czechoslovakia. There is an industrial district in Darkhan that includes a cement factory, a steel plant built in 1990 with Japanese assistance and a sheepskin-processing factory. The food production industry is well developed and is comprised of a of meat processing factory, flour mill, and small-scale producers of bakery products, confectionery, dairy products, soft drinks and alcoholic beverages. In recent years, small and medium sized enterprises have been rapidly expanding.
Darkhan is the second largest educational center in Mongolia, making the educational level of the city's population very high. Hundreds of students come to Darkhan from other parts of Mongolia to study. Currently in Darkhan Uul Aimag there are 10 higher education institutions, 25 secondary schools, 14 kindergartens, the Institute of Management and Development, the Regional Business Development Center and the Plant Science and Agricultural Training Research Institute.
Flora and Fauna
There are protected animals such as sable, deer, elk, beaver, and the sturgeon, which are registered in the Red Book - a listing of endangered species in Mongolia.
Tourism
Tourists who visit Darkhan can expect to find fresh air, blue skies, a quiet environment, and plenty of open space to enjoy many outdoor activities, such as hunting and fishing. Places of interest accessible from Darkhan City include Zulzagiin Gol, an area of natural beauty 30km to the east, and Amarbayasgalant Khiid one of the largest and most important monasteries in Mongolia approximately 3 hours drive to the west.
Transportation:
By train
There is a station on the Trans-Mongolian line of the Trans-Siberian Railway with regular service to Ulaanbaatar, Irkutsk, and Erdenet. Several passenger trains a day pass through Darkhan, including 3 domestic trains that arrive running between UB and either Erdenet or Suhbaatar on the Russian border. You want to buy tickets for Darkhan-1. Darkhan-2 is near an industrial plant several miles south of the city. Darkhan Train Station (West of Black Market).
to Darkhan
Ulaanbaatar to Darkhan- The trains leave Ulaanbaatar at 10:30, 20:20, and 21:10, and arrive at 17:38, 02:00 (next day), and 03:10 (next day) respectively for a travel time of 4 to 7 hours depending on number of stops.
Erdenet to Darkhan- Train leaves Erdenet at 19:40 and arrives in Darkhan at 00:35 the next day.
'Suhbaatar to Darkhan- Train leaves Suhbaatar at 06:35 and 21:05 and arrives 2 hours later at 08:37 and 23:12 respectively.
from Darkhan
Darkhan to Ulaanbaatar- Trains leave Darkhan at 01:45, 08:52, and 23:40 and arrive in UB at 07:40, 16:20, and 06:10 (next day) respectively. Travel time ranges from 6 to 8 hours depending on number of stops.
Darkhan to Erdenet- The train leave Darkhan at 02:52 and arrives in Erdenet at 07:45 for a travel time of 5 hours.
Darkhan to Suhbaatar-Trains leave at 03:25 and 17:55 and arrive in Suhbaatar at 05:30 and 20:00 respectively for a travel time of 2 hours.
By bus
Buses are usually much faster and more convenient than the train that tends to leave or arrive in the middle of the night. There are buses leaving hourly from the Dragon Center in Ulaanbaatar and the Russian border at Suhbaatar. The first bus leaves UB at 09:00, and the last bus leaves around 19:30. Travel time is usually a little less than 4 hours. There are also microbuses and vans leaving from the Dragon Center throughout the day. Buses from Erdenet and Suhbaatar are also available. Darkhan Bus Station (Southwest of New Darkhan).